Before we guide you how you can earn a good amount of money by startup up your own SMS service business; let us first tell you why your idea of starting up such a business is good.
If the volume is good, you can earn a substantial amount of money.
If you follow a defined strategy and holistic approach, with a sustained, meaningful business idea, your business might scale high
Rather than having 100s of small customers, if you have at least 10 big customers and manage their accounts, you might gain profit better than expected
The margin might be small – be warned! If you are dreaming of earning great as quickly as you set up the business, you might be mistaken. There is an immense competition in the market, and it takes time to earn. Moreover; you need to send messages in bulk to start earning.
The entire business model is great, and a good number of people are earning well. But before starting up the business on your own, you should at least understand how to get started. Whether you should begin everything on your own or take help of someone in achieving your goal of gaining a sustained footprint in the business of bulk SMS.
So, here we go –
If you want to begin on your own, you need a clear, defined business strategy. You need an SMS gateway, a server, and to manage all of these and more; you need the help of developers, writers, programmers, designers, sales heroes and good managers. So, this means great investment of time, money and effort.
So, what is the way out? We recommend before you develop such a capital and confidence to begin on your own, why don't you begin working under an established brand as a reseller.
When you become a reseller, you can avail a number of standalone benefits; such as you gain training, guidance, and all the necessary help to starting up. Moreover; as a reseller; you can earn some good amount of money if you partner with an established brand and work with them in accordance with their pinpointed advice and suggestion.
For example, when you partner with BroadNet as a reseller, you get a number of standalone benefits; some of which are mentioned below. The below-mentioned texts are sourced directly from the website of BroadNet
BroadNet Reseller Information: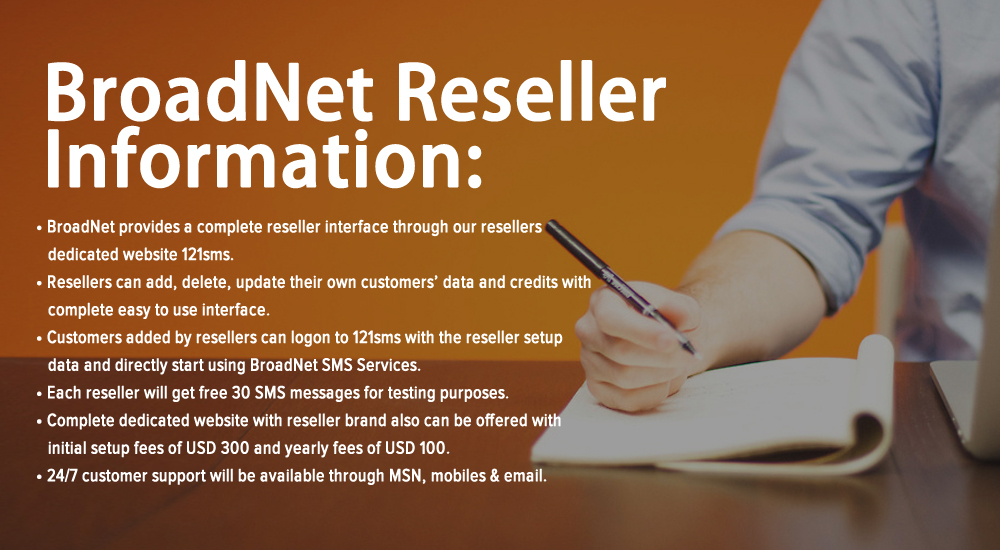 BroadNet provides a complete reseller interface through our resellers dedicated website 121sms.
Resellers can add, delete, update their own customers' data and credits with complete easy to use interface.
Customers added by resellers can logon to 121sms with the reseller setup data and directly start using BroadNet SMS Services. In less than 1 minute resellers can setup the account for their customers and start earning money!
Each reseller will get free 30 SMS messages for testing purposes.
Complete dedicated website with reseller brand also can be offered with initial setup fees of USD 300 and yearly fees of USD 100.
24/7 customer support will be available through MSN, mobiles & email.
Wanted to learn more? Please click the website of BroadNet Technologies