The trend of bulk SMS has gained extra momentum in the past few years. With more and more corporate giants taking to SMS advertising route, Bulk SMS has become the next-big-thing in the industry. Many industry mongers believe that it is its economical streak and fast reach, which have brought it to the centre of everyone's attention. Not to forget the impact of SMS advertising, which has noticed a lot more as compared to other mediums of advertising. This is also true because of the fact that almost everyone reads an SMS at least once and viral SMS is an add-on, which cannot be ignored.
Unlike other advertising mediums where there is an ambiguity of whether a message reached its target audience or not, we at BroadNet assure you of having your message reached the target recipient. We are committed to offering bulk SMS services , which are absolutely one-of-a-kind and can be used for a range of constructive purposes.
Here are the salient features of bulk SMS services: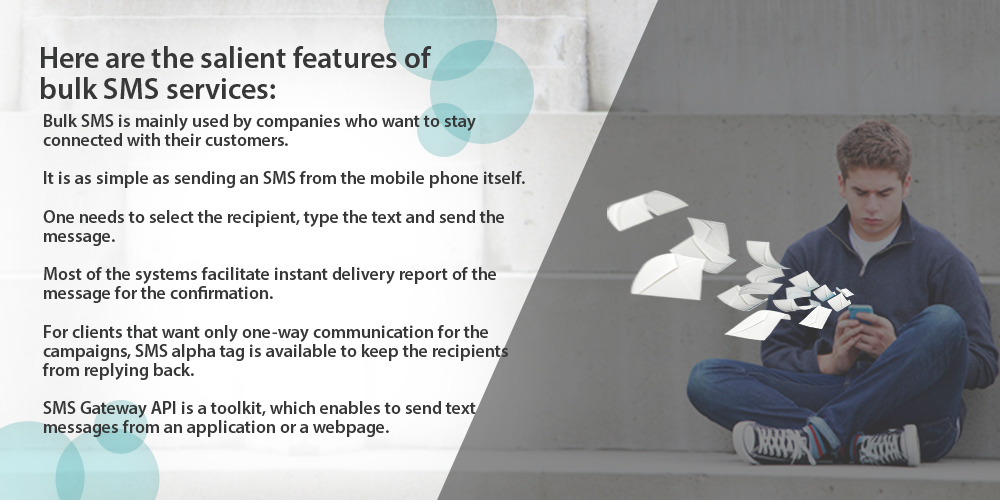 Bulk SMS is mainly used by companies who want to stay connected with their customers and wish to update them on upcoming promotions or product launches.
It is as simple as sending an SMS from the mobile phone itself.
One needs to select the recipient, type the text or select the message from the existing templates and send the message.
Most of the systems facilitate instant delivery report of the message for the confirmation.
In case, the recipient replies back, that message can also be retrieved from the inbox and saved for later analysis.
For clients that want only one-way communication for the campaigns, SMS alpha tag is available to keep the recipients from replying back.
SMS Gateway API is a toolkit, which enables to send text messages from an application or a webpage. SMS Gateway API facilitates easy integration. It has an easy-to-use interface and mostly has a worldwide coverage.
Features of our groundbreaking bulk SMS Services:
Instant delivery tracking
HTTPS/SSL secure mode
Complete technical support
Allows sending picture, flash, text, Unicode and Binary messages.
It also allows the user to prioritize the messages
Secured and advanced two-way services
Most of the SMS Gateway API has a limit of 100 characters to be sent in a text.
BroadNet is catching the attention for being the most affordable and effective bulk SMS provider in the industry. Our updated package of bulk SMS service will help the businesses to market their business at least cost.
For more information on the bulk SMS Services by BroadNet, please visit our website www.broadnet.me.
About BroadNet Technologies
BroadNet Technologies is an international leading Business Messaging Solution Provider. It's joined the GSMA as an Associate Member also it has been awarded certification to the ISO 27001:2013; BroadNet Technologies has been a pioneer in the use of SMS-messaging service across global markets since 2003 thus widening its range of products and services to include Bulk SMS, A2P SMS, HLR Lookup Service, SMSC Gateway, SMS Firewall, Web Solutions, and Mobile Applications. For more information, please visit us: www.broadnet.me
BroadNet Technologies Contact
Skype 24/7: broadnet-sms
E-mail : info@broadnet.me