BroadNet, the fastest growing bulk SMS service proving company, has the singular initiative for marketing your business products/services on your mobile devices by way of SMS. The highlight of the hard-hitting initiative is to avoid sending spam, unsolicited bulk SMS and to the target audience at a very affordable cost that will take your breath away.
HOW IT WORKS
In order to start using and benefiting from our website Broadnet Technologies, it is a must for him/her to sign up it. Subsequently, we add your promotional message at the very end of each SMS depending onthe regional area and time.
The salient features of our services are following: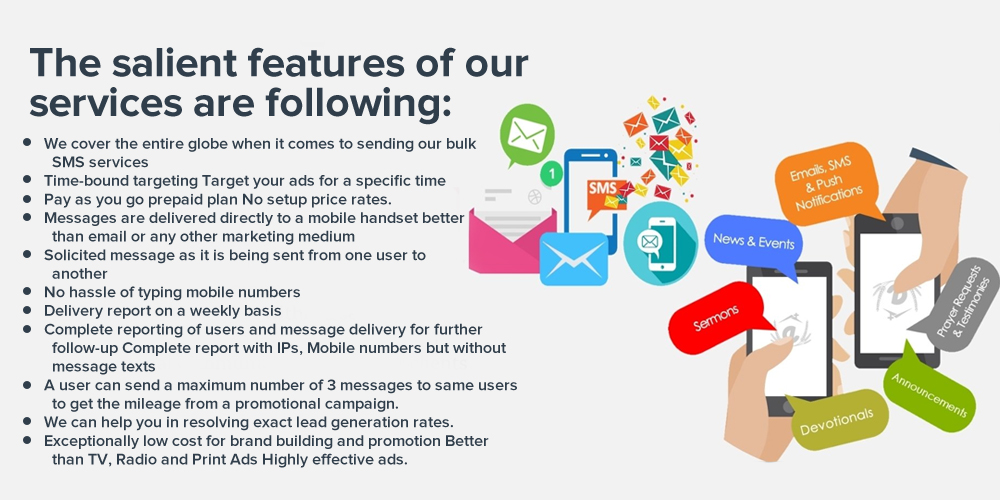 We cover the entire globe when it comes to sending our bulk SMS services
Time-bound targeting Target your ads for a specific time
Pay as you go prepaid plan No setup price rates.
Messages are delivered directly to a mobile handset better than email or any other marketing medium
Solicited message as it is being sent from one user to another
No hassle of typing mobile numbers
Delivery report on a weekly basis
Complete reporting of users and message delivery for further follow-up Complete report with IPs, Mobile numbers but without message texts
A user can send a maximum number of 3 messages to same users to get the mileage from a promotional campaign.
We can help you in resolving exact lead generation rates.
Exceptionally low cost for brand building and promotion better than TV, Radio and Print Ads Highly effective ads.
How BroadNet's mobile marketing is better than brand building sales promotion?
Our mobile marketing is singular and absolutely one of a kind as follows:
Compared to any other form of marketing TV, Radio, FM, Hoarding, our bulk SMS marketing is lesser in price rates.
Target result – Unlike email marketing/ hoardings/ FM ads where feel sorry to target the right person, we typically promote them on mobile devices, as it is almost impossible for people to pay no heed to the handset.
Performance can be assessed unlike other kinds of marketing
Salient features of our innovative bulk SMS Services: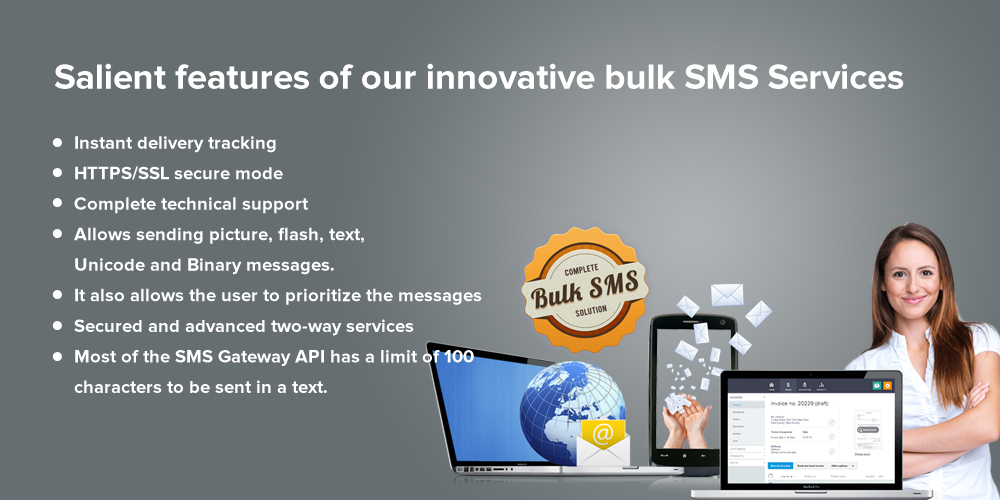 Instant delivery tracking
HTTPS/SSL secure mode
Complete technical support
Allows sending picture, flash, text, Unicode and Binary messages.
It also allows the user to prioritize the messages
Secured and advanced two-way services
Most of the SMS Gateway API has a limit of 100 characters to be sent in a text.
BroadNet is grabbing the attention of its target audience hailing from a diversity of backgrounds. Our most affordable package of bulk SMS will help the businesses to market their business at least cost.
About BroadNet Technologies
BroadNet Technologies is an international leading Business Messaging Solution Provider. It's joined the GSMA as an Associate Member also it has been awarded certification to the ISO 27001:2013; BroadNet Technologies has been a pioneer in the use of SMS-messaging service across global markets since 2003 thus widening its range of products and services to include Bulk SMS, A2P SMS, HLR Lookup Service, SMSC Gateway, SMS Firewall, Web Solutions, and Mobile Applications. For more information, please visit us: www.broadnet.me
BroadNet Technologies Contact
Skype 24/7: broadnet-sms
E-mail : info@broadnet.me