This article will cover a few important details about HLR lookup services, with specific focus being given on its benefits
Contents of the article –
What is HLR services
What are the benefits of HLR services
How to choose a HLR services
What is HLR Services?
A good number of companies and institutions around the world always want to customize the experiences of their client while others try to manage and maintain a holistic data base of updated information by pinpointing which mobile carriers a customer is using so as to guarantee proper and efficient services delivery, and then payment and billing activities. Other than that, some companies are always in the need to learn whether the customers are reachable or whether they have removed their SIM.
The HLR is a central database, which is populated with information on all registered SIM cards. Each SIM card, which is issued by a mobile operator, has a standalone unique identifier the HLR called
Which are the core benefits of using HLR services?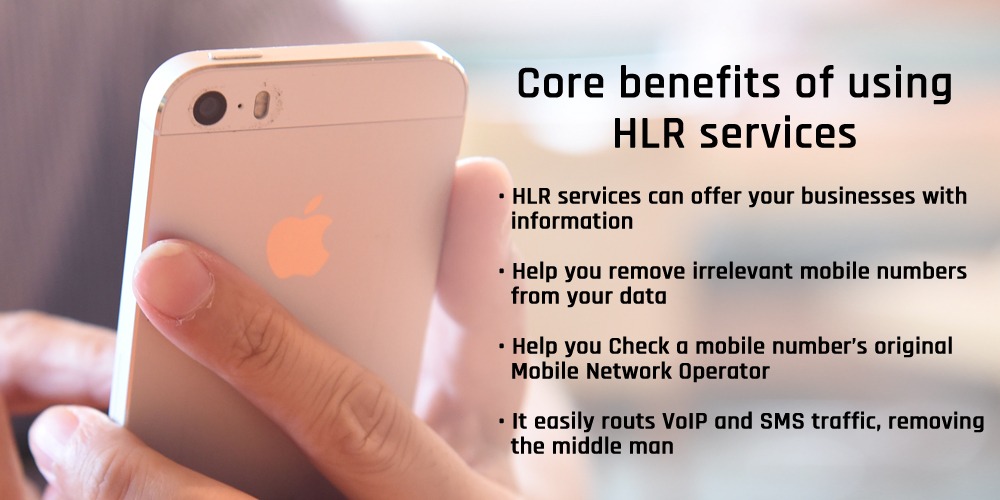 HLR services can offer your businesses with information, which you can use to gain a number of standalone benefits. It can help you learn whether a mobile number is live to maintain accurate records. It can help you remove irrelevant mobile numbers from your data and thereby minimize wasted time and resources which you would have done calling or messaging unavailable numbers. HLR services allow you to learn whether a specific number of your customers is on roaming or unavailable, which can then help you to manage your communication accordingly.
HLR services can help you Check a mobile number's original Mobile Network Operator (MNO).You can also understand using HLR if a mobile number has been recently used. HLR services also help you with security matters. It easily routs VoIP and SMS traffic, removing the middle man. Therefore, in all its totality, HLR look ups helps you save a great deal of time, effort and money. Businesses around the world understand the need for streamlining their operational efficiency by pinpointing their audiences 'needs and catering to their standalone requirements on time.
How to choose a HLR services?
Choose a good service provider which offer over the edge services, and has a trusted record of offering its clients truly advanced range of updated, seamless, functional HLR services. Should you want to learn more about it Benefits of using HLR Lookup service; please click the website NOW!