Usually, SMS API helps you to –
Send SMS in a number of ways, including formats
Receive text messages
Receive what the sender is sending without having to use any code
Receive real time status report
If you look closely at the standalone benefits, you can understand the true potential of SMS API is in a range of stuffs –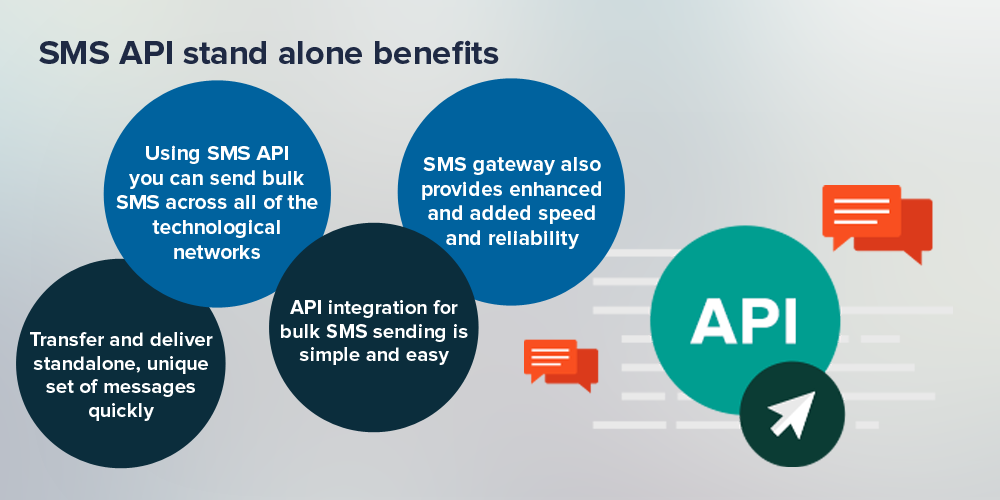 When using SMS API you can send bulk SMS across all of the technological networks and platforms that your business uses. You can use one functional control system to manage the inflow and outflow of the messages
Transfer and deliver standalone, unique set of messages quickly. SMS gateway also provides complete peace of mind and enhanced security benefits.
API integration for bulk SMS sending is simple and easy. Your developers can easily add the features of the gateway into your own systems
SMS gateway also provides enhanced and added speed and reliability. You can deliver text messages right from your browser in seconds, this means you can quickly and easily deliver your messages to your potential audiences quickly and in a super fast mechanism
These are just some of the core benefits associated with SMS API. When choosing an API, be defined about your needs, and always make sure to integrate holistic variety of useful data and SMS.
When it comes to choosing an SMS API, you need to understand the volume of messages you need to send a day, the format and means of messages
You need to understand the format of the system, and how the API you want to interact with your system. To learn more about an enhanced, simplified and useful API that works, please click the website now and try difference.