HISTORY
Your Subtitle Goes Here
Our journey began in 2003 when we processed our very first campaign of 5,000 SMS. And now, more than 15 years later, we are processing over 40 Million messages per day through our global SMS Platform. This makes BroadNet one of the leading SMS companies in the world, and this achievement is a testament to our commitment and dedication to providing our clients with exceptional services and long-lasting partnerships. As a leading telecommunication company, BroadNet is constantly working to grow and improve its products and services in cooperation with our clients.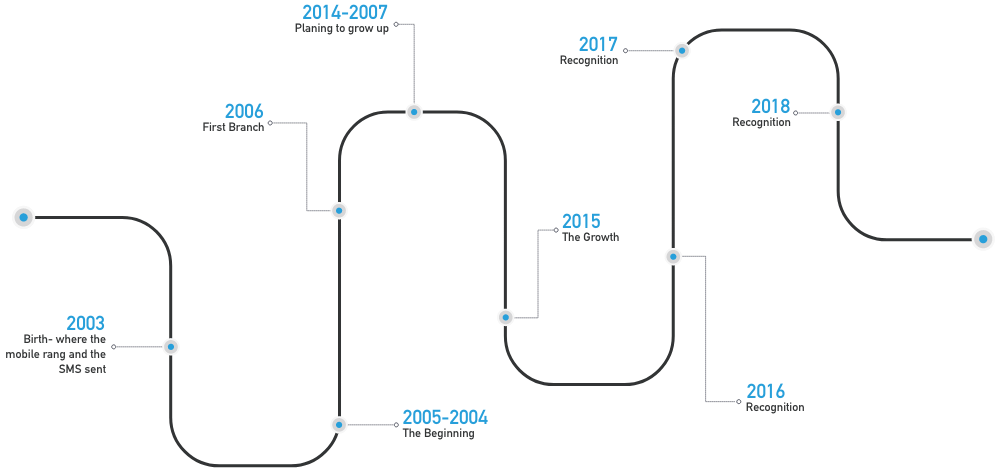 2003
Your Subtitle Goes Here
BroadNet Technologies was born in a small office in Beirut, Lebanon. This office was more like a workshop than a real office, with makeshift computer systems and parts all over the place. From there, we began our journey to become the top SMS Provider in the world of telecommunication. Now we own about 75% of the total market share in Lebanon.

2004-2005
Your Subtitle Goes Here
This was the time of new beginnings as BroadNet was on a mission to create an impact on the global telecommunications landscape. We created our platform to reach global clients and started attracting big customers and built strong relationships with a number of mobile network operators.

2006
Your Subtitle Goes Here
BroadNet opened its first branch in London, UK, first step beyond the country borders into the foray of the global telecommunication market.

2007-2014
Your Subtitle Goes Here
After a successful initiation in the telecommunication industry, we started planning for further development. It took a lot of time, investment and manpower, and a lot was at stake. Thanks to our experienced team, we managed to sign some major business partnerships with new operators and aggregators. We started to provide direct connections to more than 440 operators all over the world.

2015
Your Subtitle Goes Here
It was time to get into the Gulf Market. We opened a branch in the UAE. During that time, we managed to grab more than 30% of the market share.
Then we opened another branch in India, fully committed to offering the highest quality SMS services there. We had different strategies for getting into different markets and we also became an associate member with GSMA.

2016
Your Subtitle Goes Here
We were awarded ISO 9001:2015 for Quality Management System and ISO 27001:2013 for Information Security Management.

2017
Your Subtitle Goes Here
During this time, we opened two more branches in Italy and Malta, covering the European region with great results.

2018-2021
Your Subtitle Goes Here
We opened a new branches in Egypt and KSA, other destinations are still being planned. We have faith in our ability to reach the top in the telecommunication market.

2022
Your Subtitle Goes Here
New branch in New Jersey, USA! Long overdue and we have big plans, stay tuned.